Today was the last day of Thanksgiving break, and the LA Tech winter quarter begins tomorrow. Came up from Houston a day early on Monday because this free day happened to line up with the movement of the KCS Holiday Express from Jefferson, TX to Monroe LA. The shortest line between the two cities is the Meridian Speedway which cuts LA Tech's campus in half. I caught the Express at Gibsland, Ruston, and Monroe. Included in this thread is some other miscellaneous KCS action I saw along the way.
The day opened with a manifest train at Grambling. Missed the lead units, but saw the trailing unit. KCS 3959
A lashup of two GP40s was waiting for the manifest to pass. The lashup was led by KCS 2959, exactly 1000 less than the passerby.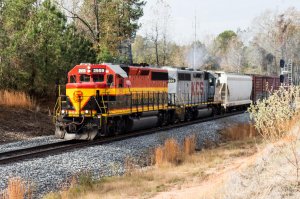 While waiting for the Express at Gibsland a manifest passed by led by 3 KCS units, and 2 PRLX rental units. Included was an SD70M warbonnet.