Don't knock clouds. Some very good railroad photos (like your first one above) have interesting cloud formations in the background. Many times an overcast sky will present better lightning conditions than bright, harsh sunlight.
First, thank you. Second, true. Overcast skies can be beneficial at times. With these cloudy skies I'm staying closer to Richmond, and waiting on the trains at specific points. The Old Richmond and US90 shots are products of that. But I'll wait for the sun to come out again before I chase out towards Eagle Lake or Wallis.
That said, today dawned overcast and raining. Around 1500 I went into Richmond to work on a tricky shot as the rain moved on. Up to 2012 Richmond had the longest serving mayor in the U.S., Hilmar Moore. Elected in 1949, and reelected until his death in 2012. A life size statue was placed outside city hall in 2008 which is located about 100' from the tracks. The goal being to work a locomotive into the background of a piece of local history. This was the first attempt: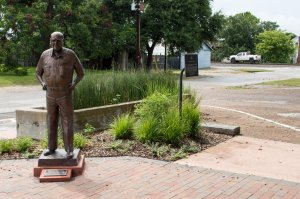 A bit more overcast and it might have worked. As it was the sun began punching through the clouds and strengthened the shadows. And expecting a freight train on ATCS, all that showed up was a hy-rail truck. Will try again. Below are a few shots I took as the sun began to show itself in Richmond and Booth respectively.
Approaching the Brazos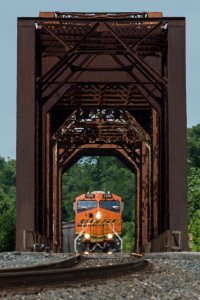 Clearing the bridge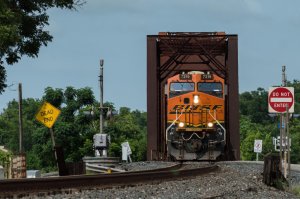 ACe at South Booth