Greetings! We recently acquired several old family albums. This picture of my Great Grandfather and some other men with this locomotive is one of the pictures that was included.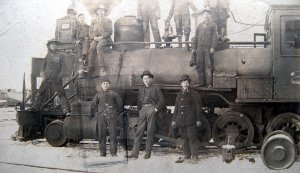 This picture was taken about 1906 or 1907, probably in New York City area. My Great Grandfather was a Machinist. We are guessing that he might have been on the crew that built or maintained this cool old machine.
Any and all help with the ID is appreciated!
All the best.